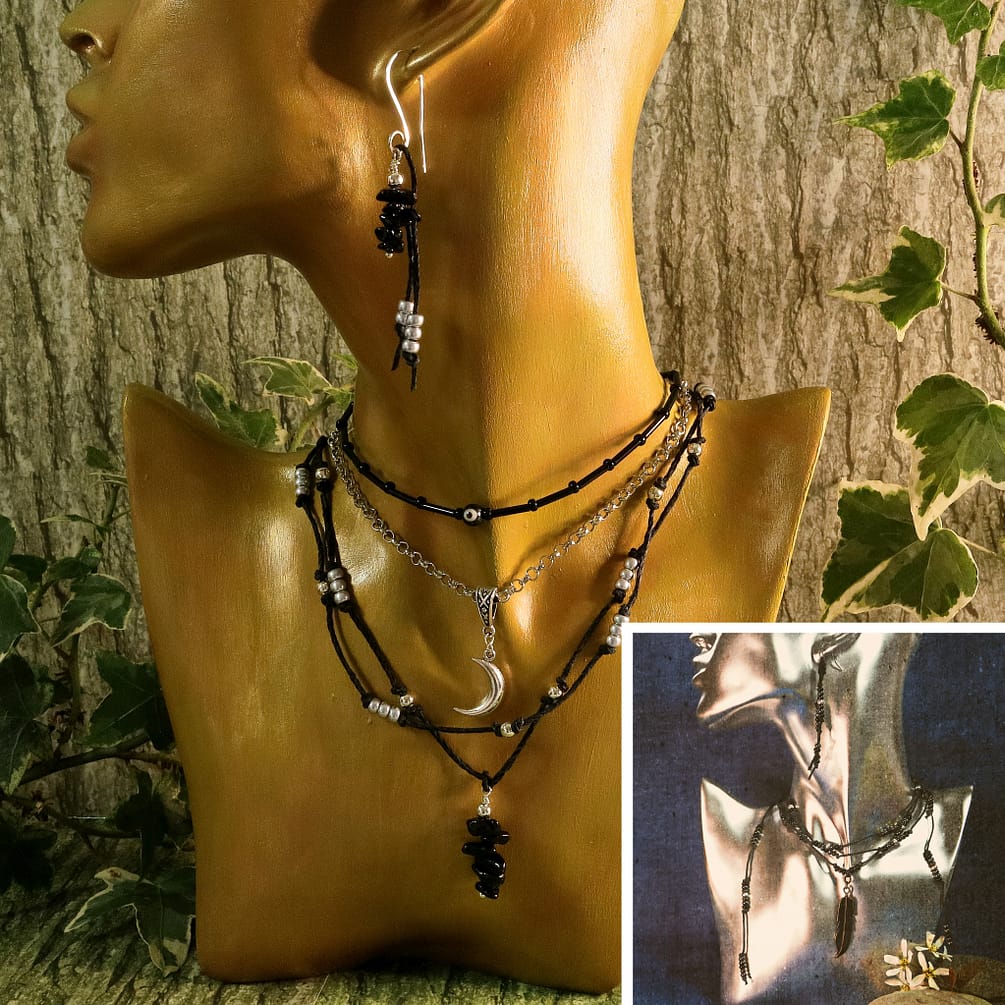 Makeover – Silver Lady to Woodland Elf! An essential prop used in my jewelry photography, my display model head looked scratched and in need of restoration. Those familiar with my jewelry photography might recognize my Silver Lady in some of my photographs. I use her regularly to show off my necklaces and earring designs, she has been much loved!
A display model head is useful, not only for photography but also in the process of jewelry design. I try out new earrings and necklaces to see how they hang on her. Unfortunately, she had become scratched about her ears and neck. It was taking a long time to edit my photographs in the photo editing software I use, as there were very visible scratches in my photographs, I was constantly repainting them! A bit of a time waster! So I decided it was time for a makeover!
My first thoughts were to simply respray with silver paint, but I decide that silver is not the best background for photographing silver jewelry. The reflections and similarity in color were causing problems with focusing my camera. It is best, I have found, to have a good contrast in color between the background and the jewelry. It took some thought to work out what color to paint her, it had to be a color that would work well with my jewelry designs.
The brand for Designs by ETC is about how 'I love my work to reflect my love of Nature. Be it Art, Photography, or Jewelry. I dedicate my art to Nature! ' The photography theme for Designs by ETC branding is about being inspired by the magic of Nature. Photographing my jewelry with flowers and leaves, particularly woodland flowers. I like it to appear as if the fairies have adorned the jewelry with flowers. So after a little thought I decided to transform her into a Woodland Elf!
The 1st stage was to prepare her for painting, I sprayed her with Plasticote Grey Primer Super. I find Plasticote to be a very easy Primer to use. The Primer adheres well to surfaces and creates a smooth and even surface for the paint to adhere too. It smells a bit unhealthy, so I decided to work in the garden. It took a couple of coats to get an even base coat. The 2nd Stage was to give her a couple of coats of Reeves metallic acrylic paint in Bronze. I then highlighted her with gold and copper acrylic paint (again Reeves).
My Silver Lady was now a Golden Lady! She looked beautiful but not like a Woodland Elf! Inspired by early Renaissance art. I noticed in Gesso art , a gold leaf glazed with a green glaze. Thinking, this effect would be very appropriate for my Woodland Elf! I decided , to give her a final coat of green glaze. Mixing the green glaze from a combination of paints in my Daler Rowney Simply acrylic paint set and Acrylic glaze medium, I created an attractive glaze effect.
The transformation is complete, the Silver Lady is now a Woodland Elf! I completed the makeover by creating a stage for her. Creating a Woodland backdrop with photographic bark prints (printed on my inkjet printer), and decorating the background with ivy from the garden. Finally, I adorned the Woodland Elf with Designs by ETC Jewelry: Black Tourmaline & Hemp Earrings, Black Tourmaline & Hemp necklace, Silver Moon Chain, Beaded Evil Eye Necklace (all coming soon to Designs by ETC) The Makeover is complete!
Joanne Shaw
Designs by ETC